VIOLIN, SUZUKI VIOLIN, CHAMBER ENSEMBLE
An Australian Violinist, Christie-Keiko Abe performs as a soloist, chamber and orchestral musician. She has given solo recitals in the USA, Austria, Japan and Australia. Her students have been successful in auditions and national/international competitions. Her students participate in the Chicago Youth Symphony, Midwest Young Artist Orchestra, DuPage Orchestra, Elgin Youth Symphony, IMEA All State, Interlochen Summer Music Camps, Chicago Suzuki Institute, Aspen Music Festival, New World Symphony, Chicago Trio Chamber workshops and many other music events.
Ms. Abe received her Bachelor of Music degree with Honors from The Sydney Conservatorium of Music at The University of Sydney, her Master of Music from the Australian Institute of Music, her PhD Specialist in Music in performance with Pi Kappa Lambda Music Honors from The University of Michigan School of Music, and post-graduate program Artist Certificate in performance from The University of Wisconsin-Madison School of Music where she served as an assistant to Prof. David Perry. She has attended master-classes of Dorothy Delay, Cho-Liang Lin, Pamera Frank, Igor Ozim, Ruggiero Ricci and Igor Oistrakh. She also studied Suzuki Pedagogy for Violin & Piano.
As a soloist performer, Ms Abe has appeared with the Sydney Conservatorium Symphony Orchestra, the Schubertiade Series, Saturday at Sherwood, Columbia College Chicago Recital Series, Metropolis Performing Arts Center Classical concert series, Australian Musicians Academy Recital Series, Pan Pacific music Festival & Mostly Mozart festival in Australia, Starling recital series in Aspen, Akademie Konzert series in Austria, International Chamber Artists Recital series, Concert series sponsored by the Chicago Japanese American Association and Sound Stage for the WTTW 11 and ABC television networks.
She has recorded on the NAXOS, Arabesque, and Albany labels with the IRIS Orchestra, the Equillibrim label with the Chicago Philharmonic Orchestra and WTTW national production label for the sound stage DVD. Among many others, Ms. Abe is a founding member of the IRIS Orchestra under music director Michael Stern in Memphis, Tennessee. She is also a member of the Chicagoland Pops Orchestra, Chicago Philharmonic Orchestra, Ravinia Festival Orchestra and the Elgin Symphony Orchestra. She was the Concertmaster at the Michigan Musical Theater Orchestra.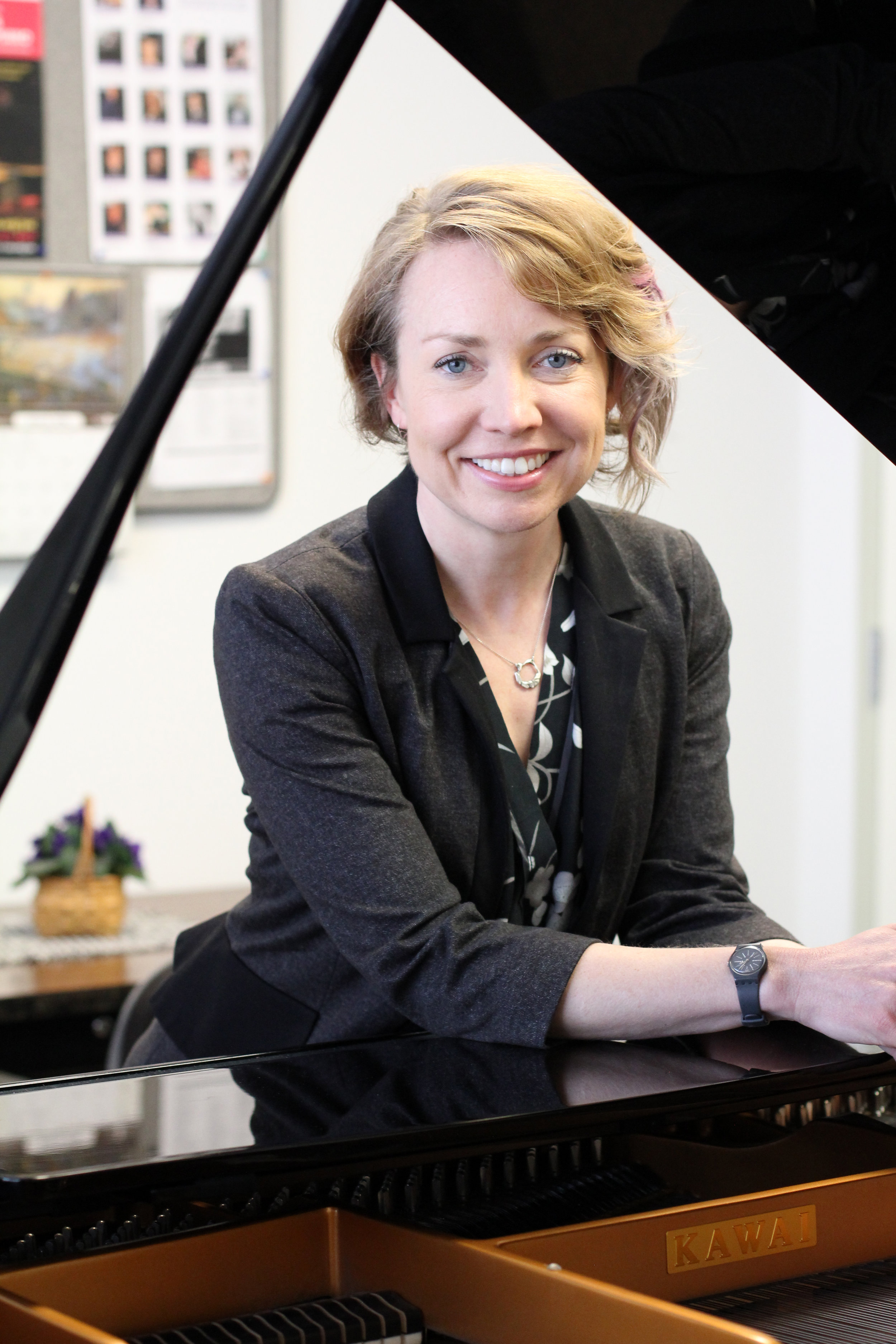 PIANO, SUZUKI PIANO
Pianist Aubrey Faith-Slaker is an established and dedicated music educator in the Chicagoland area, teaching students ages 3 and up in English and in Spanish using both Suzuki and Traditional Philosophies. She has maintained a flourishing piano studio in Texas, Wyoming, Colorado, and currently Chicago, teaching piano, music history, music theory and piano pedagogy to students of all ages. Aubrey also works mentoring new teachers in piano pedagogy practices, pursuing further education and starting their own businesses. Aubrey teaches Masterclasses in Chicago and Latin America, is part of the Suzuki Association, is MTNA certified, and is steadily working on completing her studies towards becoming a Suzuki teacher trainer.
VIOLIN, SUZUKI VIOLIN
Violinist Alison Tatum is an active performer and educator in the Chicago area. A certified Suzuki Method instructor, Alison has also taken multiple collegiate courses in traditional pedagogy methods and has over 15 years of teaching experience. In addition to maintaining a private studio, she has worked as a camp counselor, sectional coach, assistant instructor at a Montessori preschool, geometry and writing tutor, high school music history and music theory instructor, and Suzuki group instructor.
An avid chamber musician, Alison is a founding member of the string quartet, Amethyst Ensemble, and the mixed-instrumental ensemble, Amazonland Chamber Players. Alison can often be found in the pit orchestra at various musical theatre establishments around Chicago, freelances with several orchestras in the Chicago area, and appears regularly with the worship team at Covenant Presbyterian Church, where she improvises in both classical and folk styles. In addition to her performing career, Alison regularly arranges music for performances by Amethyst Ensemble and Covenant Orchestra Ensemble.
lison began her musical studies at a young age in her native Kansas City, Missouri. She holds a Performance Certificate and a Masters of Music degree from DePaul University, and a Bachelors degree in Violin Performance and Music Theory from the University of Missouri in Columbia where she graduated summa cum laude. Her teachers include Dr. Olga Dubossarskaya Kaler, Eva Szekely, Edward Dolbashian, Leslie Perna, and Dr. Neil Minturn
When she is not playing or teaching the violin, Alison dabbles with viola and electric bass. She also enjoys cooking and baking, playing board games with friends, making artsy things, and spending as much time as possible enjoying the outdoors.
VIOLIN, VIOLA, SUZUKI VIOLIN, SUZUKI VIOLA
Violin and Viola performances have taken her from prominent European stages to various Chicago venues, as Ms. Bubanj has kept on pursuing her interests and sharing her passions with her students. Many of her chamber and orchestra performances include concerts in Serbia, Austria, Rome Chamber Music Festival, the Chicago Cultural Center where she performed at the Lifeline charity events under the patronage of HRH Crown Princess Katherine of Serbia, WFMT 98.7 FM live radio broadcast in 2007 with EDU piano Quintet, Indianapolis Christmas Ball 2005, performing with world-class musicians Classical and Jazz music genres.
Her teaching philosophy is based on a belief of the positive impact music can have on a child's intellect, academics, creativity, social skills and self-esteem more than any other life pursuit. She believes that every student has a unique talent, and it is the teacher's role to provide a high-qualitymusic instruction where the students can explore all their musical growth. She offers instruction with love and patience that incorporates different learning styles based on a balanced posture, efficient practice habits, and listening to the great performers. She has been a certified Suzuki teacher since 1999. Her students have won major prizes, competitions, orchestra auditions and prestigious music colleges, and were selected to perform at a special event organized by Michelle Obama at the White House in November of 2016.
She is also very honored of a composition written for her - a string quartet – Ariel, composed by internationally acclaimed composer Kim Diehnelt.
SUZUKI PROGRAM COORDINATOR, SUZUKI VIOLIN
Mr. Tanaka is the former Suzuki program founder/director at Upper Valley Music Center and Twin State Suzuki Workshop in Lebanon, NH. A registered Suzuki teacher in Book 1 though Book 10, he has studied long term Suzuki pedagogy with Louise Scott, Karin Hallberg, and Joanne Bath. Additional short-term training with Nancy Lokken, Barbara Barber, Alice Joy Lewis, Daphne Hughes, and Michele George. He studied violin with Hana Aoto, Hal Grossman, Louise Scott, Victor Liva and Ara Gregorian, and he was former member of Flagstaff Symphony.
Bachelor of music in music performance and music education from Northern Arizona University with emphasis on Suzuki pedagogy; master of music in music performance and Suzuki Pedagogy from East Carolina University. His students have received the award in the Northern Illinois Chandler-Starr Competition, and participating Rockford Symphony Youth orchestra and regional youth orchestras.

Previously, he taught at Upper Valley Music Center, Music Academy in Rockford, and Rockford College. Currently Mr. Tanaka teaches violin/viola at Music Institute of Chicago, and Merit school of Music in Chicago.
FLUTE, SUZUKI FLUTE
Lisa Goethe-McGinn has been instructor of Suzuki and traditional flute at Sherwood Community Music School at Columbia College Chicago for over 14 years. She is a certified Suzuki instructor and has many years experience teaching flute and recorder in addition to coaching chamber ensembles. She is an active soloist and chamber musician and has performed in many festivals and concert series' throughout the U.S. and abroad.
Lisa received her degrees from the University of Illinois and Millikin University and has studied with Alexander Murray, Mary Karen Clardy and Mary Ellen Poole. She has participated in masterclasses with Robert Dick, Walfrid Kujala and Patricia Spencer.
Lisa is also on the faculty of Columbia College Chicago, Chicago Center for Music Education in the West Loop area in addition to her home studio in the western suburbs.
VIOLIN, SUZUKI VIOLIN
Introduced to the Suzuki Method as an adult, Melissa was very impressed by the joyful nature in which Suzuki students performed music.Probably the most important aspect about music that she would like to share with students and parents, is that above all the high standards and hard work it takes to produce a polished performance, music is fun! It is a beautiful way that we can create a meaningful experience with others while expressing feelings and emotions that are beyond words. Her favorite part about teaching is that "aha-moment"- when the student starts to smile and look at you during the lesson after the concept went "click."

Growing up in a family with two parents who are opera singers, music has always been part of Melissa's life. However, her earliest memory with the violin is distinctly in her memory. She had been listening to the Mozart violin concertos for over a year during playtime, and finally when she was 8, she went to an open house at our local music conservatory in Cottbus, Germany. She tried the violin, and I knew right away it was the instrument for her.

Melissa graduated from DePaul University with Masters Degree in Music and is an active performer in churches and regional orchestras in the Chicago area. She is also on staff at the DePaul School of Music as Head Librarian of Ensembles.
PIANO, SUZUKI PIANO
BIO COMING SOON
CELLO, SUZUKI CELLO
BIO COMING SOON
VIOLIN, SUZUKI VIOLIN
BIO COMING SOON