it all starts with a good script
Because film scripts are treated as blueprints for a film rather than literary works in and of themselves, they are continually being revised and reconsidered, and yet a great script is essential to the finished product: a diagram to help everyone working on a film see the overall design. The Summer at Columbia Screenwriting Immersion will introduce students to the craft of screenwriting and how it functions within television and film productions.
AS A SUMMER AT COLUMBIA STUDENT, YOU WILL
Participate in a program uniquely designed for high school students by our award-winning faculty and staff

Learn directly from leaders in the creative industries

Meet and collaborate with like-minded peers and graduate mentors from around the world

Participate in various industry-specific enrichment activities while exploring the City of Chicago

Gain hands-on classroom experience, while earning college credit that can be used towards your major should you attend Columbia College Chicago in the future

Have the opportunity to live on campus in the vibrant South Loop neighborhood of Chicago.
HANDS-ON INDUSTRY EXPERIENCE
This class is for anyone interested in writing as a profession, in particular students who think they might like to write for film and/or television. By the end of your three weeks with us, you will have written two different stories in script format, collaborated with like-minded peers, and participated in enrichment activities around the City of Chicago that examine how screenwriting fits in the larger filmmaking practice. Activities will include writing lab sessions, visits to film sets, workshops, and guest speakers.
YOUR freshman level FILMMAKING COURSE
During your three weeks in the Summer at Columbia program, you'll achieve the learning outcomes and credits for the Screenwriting I course in our Cinema and Television Arts Department. All films have characters who face conflict and take action. That conflict is expressed through various situations that occur in a specific time and place. Screenwriting I explores these elements as you create character-driven narratives, drawing from your own personal experience or observations and dramatizing those for an audience.
This is a fully accredited, three-credit hour course. Summer at Columbia students who pass this course and matriculate to Columbia do not need to take Screenwriting I as undergraduates.
About YOUR Faculty Mentor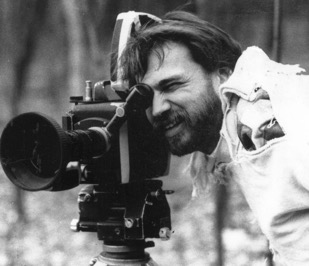 SCREENWRITING
Josef (Joe) Steiff is an award-winning writer, filmmaker and professor of Cinema and Television Arts at Columbia College, where he oversees the screenwriting curriculum.
As a former licensed social worker from Appalachia, he creates work that reflects his interest in the ways that people struggle to make personal sense out of random, impersonal events. His films have been exhibited in the United States, Europe, and Asia, and he has written two books on creating content for the screen. In addition, he has edited a variety of volumes on popular culture, such as anime, manga, Sherlock Holmes, and the TV series Battlestar Galactica.
CINEMA AND TELEVISION ARTS Alumni
Columbia College Chicago's Cinema and Television Arts (CTVA) Department has produced many successful alumni. These alumni find work in the industry right out of college, and some have won Oscars, Emmys, and Golden Globes.
CTVA Alumni highlights
Here is a small sample of Columbia College Chicago alumni success stories:
Ayanna Floyd MFA '98 was coexecutive producer for the TV shows Empire and Falling Skies, and has writing credits on episodes of Empire, The Chi, Falling Skies, and Private Practice.

Janusz Kaminski '87 is a two-time Academy Award-winning cinematographer, whose credits include Saving Private Ryan, Schindler's List, Lincoln, and The Post.

Declan Quinn '79 has film credits as a cinematographer and director of photography for Leaving Las Vegas, 28 Days, and My Next Guest Needs No Introduction with David Letterman.

Christian Sprenger '07 is the Emmy Award-winning cinematographer for the TV shows Atlanta, GLOW, Baskets, and Last Man on Earth.

Lena Waithe '06 is an Emmy Award-winning writer, actress, and producer of shows and films such as Dear White People, Bones, Master of None, and The Chi, and was named one of TIME magazine's 100 most influential people of 2018.

Annick Wokan '05 is an associate producer for the award-winning TV show Game of Thrones.