PIANO, MUSIC THEORY
Pianist and composer Gerald Rizzer is the founder and artistic director of The Chicago Ensemble, and holds degrees from the University of Chicago and Yale University. Mr. Rizzer teaches piano, theory, and ensemble at Sherwood Community Music School. For many years, he taught music appreciation courses at DePaul. Mr. Rizzer composed the music for several shows performed at Theater Building Chicago. He has recorded two CDs of his short piano pieces "Songs Without Words," one in 2012 and the other in 2016.
Lessons with Mr. Rizzer have an orientation towards developing an understanding of music theory as well as the listening and creative skills of chamber music. He encourages students to compose their own works, which can be a nice "breakthrough" from how many people teach.
Gavin Williamson, an early piano instructor, is a favorite mentor of Mr. Rizzer's. "He was a charming and daring man who lived in a big stone house near the Museum of Science and Industry and had great stories and anecdotes to share. He had 3 or 4 harpsichords and several pianos and performed for a weekly radio program, which was unusual for that time." Mr. Rizzer teaches the technique that he was first taught by Gavin Williamson, and teaches students ages 5 and up.
PIANO
Christopher Goldston, Nationally Certified Teacher of Music, holds a Master of Music degree in piano performance and pedagogy from Northwestern University, and a Bachelor of Music degree in piano performance from the University of North Carolina-Greensboro. He teaches at Columbia College Chicago, and Sherwood Community Music School at Columbia College Chicago.
In 1991, Mr. Goldston received the National Federation of Music Clubs Lynn Freeman Olson Composition Award for his first composition, Night Train. Since then he has written numerous pieces for piano, voice, and chamber ensemble, including his Thesis for Wind Quintet which won the 1993 MTNA Composition Contest for North Carolina. Mr. Goldston compositions are published by Alfred Publishing Company and the FJH Music Company.
Mr. Goldston has been the National Coordinator for the Music Teachers National Association Composition Competition since 2010. He has also served as state and division coordinator for the competition. He is currently president of the Illinois State Music Teachers Association. Christopher has also been very active in the Chicago Area Music Teachers Association, and has served as president and vice-president in charge of programs. He was member of the year in 2008.
Chris Goldston is also in demand as a clinician and guest artist. He has presented for numerous music groups across the United States, and has presented sessions at MTNA State Conferences in Illinois, Indiana, Utah, Wisconsin, and North Carolina, as well as at the MTNA National Conference in Kansas City, Missouri in 2004. His students have won state and national awards for composition, including the 2017 national young artist winner for the MTNA Composition Competition.
PIANO
A native Montrealer, Laura Fenster graduated from the Quebec Conservatory of Music at the age of fourteen with a First Prize in the Piano Concours. He rteachers were Yvonne Hubert and Philip Cohen who has remained her mentor to the present day. She subsequently obtained a B.A. (Phi Beta Kappa) from the University of California at Los Angeles, a Master of Music from the University of Southern California, and more recently, the Diploma in Advanced Music Performance Studies from Concordia University, where she was awarded the Philip Cohen Prize.
Ms. Fenster has performed on stage, television and radio in the U.S., Canada and Asia in solo recital and the ensemble repertoire. Her appearances include: two performances with l'Orchestre Symphonique de Montreal under Wilfrid Pelletier; three tours of Taiwan; live broadcast recitals as soloist and accompanist in the Dame Myra Hess Concert Series; a solo recital (as Allied Arts Laureate) to unanimous critical acclaim in Chicago's Orchestra Hall; the Chicago premiere (in Orchestra Hall) of Olivier Messiaen's monumental Visions of Amen which she shared with her duo-piano partner, Martha Faulhaber. Ms. Fenster regularly appears in solo and ensemble concerts in Chicago and the surrounding area.
Her teaching style and philosophy have been largely shaped by her association with Phil Cohen of the Leonardo Project. This means that she teaches the students according to their individual needs, teaches the music as a living, artistic part of the students' life, and is aware of the physical as well as the intellectual and emotional aspects of the learning experience. Her students participate in recitals, workshops, festivals and contests according to their interests and abilities, although a certain amount of performance is mandatory for each student.
PIANO
Bette Coulson is a performing member of a piano duo and piano quartet, and teaches piano classes, piano pedagogy, private lessons and piano ensemble at Sherwood Community Music School and within Columbia College Chicago's music Department. Bette enjoys teaching all ages and skills. She started the first preschool classes at Sherwood while many of her college students have gone on to their own careers in music.
As a college student and twice a contest winner, Bette gave her debut with the Chicago Symphony Orchestra playing the Aram Khachaturian concerto. She was also finalist in the L.M. Gottschalk contest in New Orleans and the Rockefeller American Music Contest in St. Louis. Her degrees are from the Chicago Conservatory of Music (M.M.) Chicago with Harold Berlinger and the American Conservatory of music with Aletta Tenold (student of Rosina Lehvinne, New York). Post college study of contemporary music was with William Browning.
Bette was on the faculty of Northeastern University teaching pedagogy and private lessons and is currently with Columbia College Chicago (having served as interim piano coordinator). Bette and Evelyn Binz give concerts of one and two pianos and a CD of their duet concert at the 4th Presbyterian Church, Michigan Ave, 2015, is available. They are also the founders of the Fran Randall Concert Series for college students at the Levy Center in Evanston. Bette and Evelyn were honored (Feb.2018) with a plaque put on the Honor Donor Wall at the Levy center in Evanston for their founding and managing the acclaimed Fran Randall Memorial Concert Series. The series presents, four times a year, musicians of college age with a paid performance.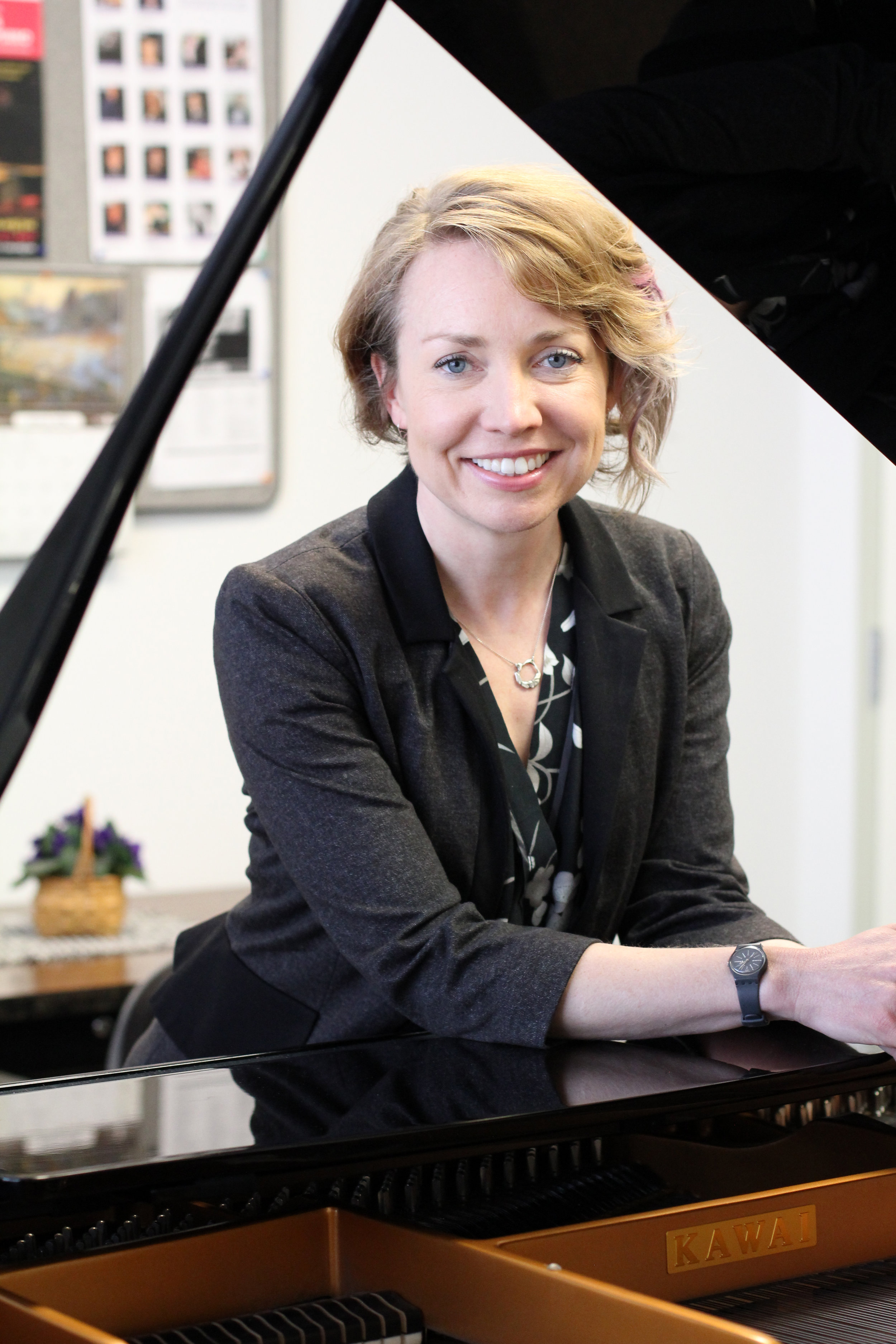 PIANO, SUZUKI PIANO
Pianist Aubrey Faith-Slaker is an established and dedicated music educator in the Chicagoland area, teaching students ages 3 and up in English and in Spanish using both Suzuki and Traditional Philosophies. She has maintained a flourishing piano studio in Texas, Wyoming, Colorado, and currently Chicago, teaching piano, music history, music theory and piano pedagogy to students of all ages. Aubrey also works mentoring new teachers in piano pedagogy practices, pursuing further education and starting their own businesses. Aubrey teaches Masterclasses in Chicago and Latin America, is part of the Suzuki Association, is MTNA certified, and is steadily working on completing her studies towards becoming a Suzuki teacher trainer.
VOICE, PIANO
Phil Caldwell has been a faculty member at the Sherwood Community Music School and in the Theatre Department at Columbia College Chicago for 15 years. He received a Bachelor of Music in piano performance from the Sherwood Conservatory of Music, and a Master of Arts in Interdisciplinary Arts from Columbia College Chicago. As an interdisciplinary artist, Phil encourages students to explore auditory, visual, and kinesthetic experiences in studying performance. He focuses on both interpretive skills as well as technique in order to release physical tension and improve performance.
Phil has 20 years' experience as a pianist and music director in Chicago theater, including productions for The Goodman Theatre, American Theater Company, the national touring company of The Second City, Victory Gardens, Emerald City Theatre Company, Davenport's Cabaret, Annoyance Theatre, Organic Theater Company, Red Tape Theatre Company and Live Bait Theater.
In addition to his work at Columbia College, he has worked as a coach and accompanist in the Theatre Conservatory at Roosevelt University, the community music department at DePaul University, and for the vocal arts component of the City of Chicago's Gallery 37 program for high school students. Phil also serves as music director for the Edison Park United Methodist Church.
PIANO, VOICE
Julia Storke is a multi-instrumentalist with an established international career. She has lived, taught and performed music in a wide variety of countries, including China, the United Arab Emirates, Argentina and Kenya. A native of Evanston, she received her theatre education at New York University's Tisch School of the Arts and her music degree at Mills College in California, where she studied composition with Pauline Oliveros and voice with Faith Winthrop. She is a multiple grant recipient with a background in piano, Orff Schulwerk and Kodaly pedagogies and is a certified k-12 music teacher who has taught in private and public schools across the country and abroad. As an artist, Julia began her career on stage as an actress and director and found her voice as a singer-songwriter and spoken word artist as well as a jazz singer. She hopes to empower her students with her unique approach to piano and voice by creating, composing and applying music principles through a unique blend of movement, body percussion and music literacy.

PIANO
Monika was born in Belgrade, Serbia, and began playing piano at the age of five. In 2008, Monika was selected to perform with her duo at the internationally-recognized Kolarac Hall. The same year, she moved with her family to Chicago and started taking piano lessons at Sherwood Community Music School with Prof. Ivana Bukvich. In 2011, she won the Young Artist Competition and performed on stage at the Chicago Symphony Hall. Monika received her Bachelor's Degree in Piano Performance and Music Theory at the University of Michigan under the mentorship of Prof. Christopher Harding. In 2014, she won second place with her quintet at the school's inaugural Dale and Nancy Briggs Chamber Music Competition. Monika continued her piano studies as a Teaching Assistant at Florida International University under the tutelage of esteemed concert pianist Kemal Gekić. In 2015, she performed in the Weill Recital Hall. The following year, Monika won the FIU Concerto Competition. In 2017, Monika was awarded the Graduate Performance Award as a recognition for her achievements. In June 2018, Monika performed at the Stern Auditorium, the biggest stage of the three at the Carnegie Hall. Monika joined Continuing and Community Education at Columbia College in May 2018 as a Teaching Artist for Children's and Pre-Collegiate Program. She actively performs solo and chamber repertoire in the Chicago area. Beginning Fall 2018, Monika continues specializing in piano performance under the tutelage of Dr. Winston Choi as a Performance Diploma student at the Roosevelt University's Chicago College of Performing Arts.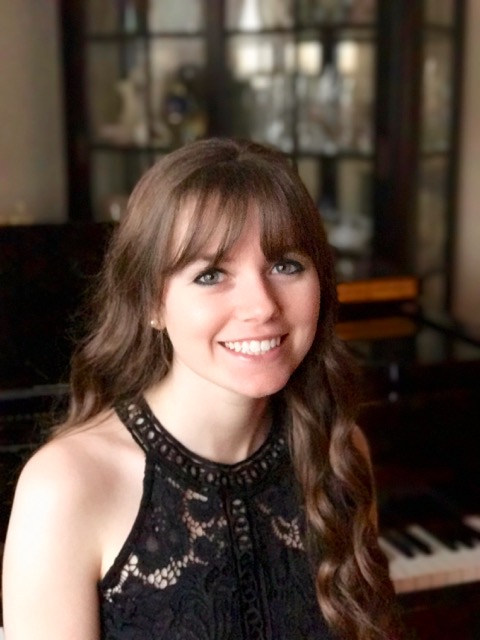 PIANO, KIDS PIANO LAB
Emily Michielutti is an instructor for the Kids Piano Lab and offers individual piano lessons. Her appreciation for music gives her the opportunity to share her joy for music with students of all ages, and to instill in her students the values of creativity, diligence, and curiosity. She believes education is about finding one's passion for music while continuously improving ability. Emily graduated with a B.M. in Composition and Piano Performance from Columbia College Chicago where she studied piano with Bette Coulson and composition with Drew Baker. Originally from Detroit, Michigan, Emily joined Columbia College as a Teaching Assistant in 2014 and Sherwood Community Music School as a Teaching Artist in 2016. Emily hopes that her students channel their desire for leaning to everything they do in life.
PIANO
Bachelor of Music, Piano Performance and Pedagogy (Bowling Green State University, Bowling Green, Ohio). Graduate studies in organ performance and church music (Bowling Green State University, Bowling Green, Ohio). Continuing education through conferences of Music Teachers National Association and National Conference on Keyboard Pedagogy.
PIANO
B.M., Bowling Green State University. Assistant Director of Music at Immaculate Conception Church in Chicago. Also taught at Music Schools of Northwest Ohio, Creative Arts at Bowling Green State University, and privately. Certified in Music for Young Children group piano instruction method.
PIANO
M.M., Roosevelt University, B.M.ED., Texas A&M University, D.M.A., Northwestern University. Minister of Music at Our Lady of Sorrows Basilica in Chicago; accompanist with the Chicago Symphony Orchestra's Musicians Residency Program.