IMMERSE YOURSELF IN THE CREATIVE INDUSTRY AND BUILD YOUR PORTFOLIO
The Summer at Columbia Illustration Immersion is an introduction to the philosophy behind illustration and its use in the creative industries. Students will create illustrations that explore the various markets using a combination of traditional and digital media. By the end of the program, you will have created three original illustrations with the use digital media and graphic art materials (pens, marker, color pencil, graphite) that you can use in your portfolio.
AS A SUMMER AT COLUMBIA STUDENT, YOU WILL
Participate in a program uniquely designed for high school students by our award-winning faculty and staff

Learn directly from leaders in the creative industries

Meet and collaborate with like-minded peers and graduate mentors from around the world

Participate in various industry-specific enrichment activities while exploring the City of Chicago

Gain hands-on classroom experience, while earning college credit that can be used towards your major should you attend Columbia College Chicago in the future

Have the opportunity to live on campus in the vibrant South Loop neighborhood of Chicago.
HANDS-ON INDUSTRY EXPERIENCE
Over the span of your three weeks with us, you will visit museums, galleries and creative design studios across the City of Chicago and on the Columbia College Chicago Campus. You will be taken on various instructor-led sketching trips to practice skills at drawing from observation at places like the Lincoln Park Zoo, the Natural History Museum, and Millennium Park. Guest speakers who are professional illustrators actively working in fields such as children's books illustration, comics, editorial illustration, and surface design will be invited into the classroom for guest lectures and portfolio reviews of your work.
YOUR freshman level DESIGN COURSE
During your three weeks in the Summer at Columbia program, you'll achieve the learning outcomes and credits for a three credit-hour, freshman-level course in our Design Department. Summer at Columbia students who pass this course and matriculate to Columbia will not be required to take it again as undergraduates.
PLEASE NOTE: We will be uploading specific information on this course in the coming weeks.
About YOUR Faculty Mentor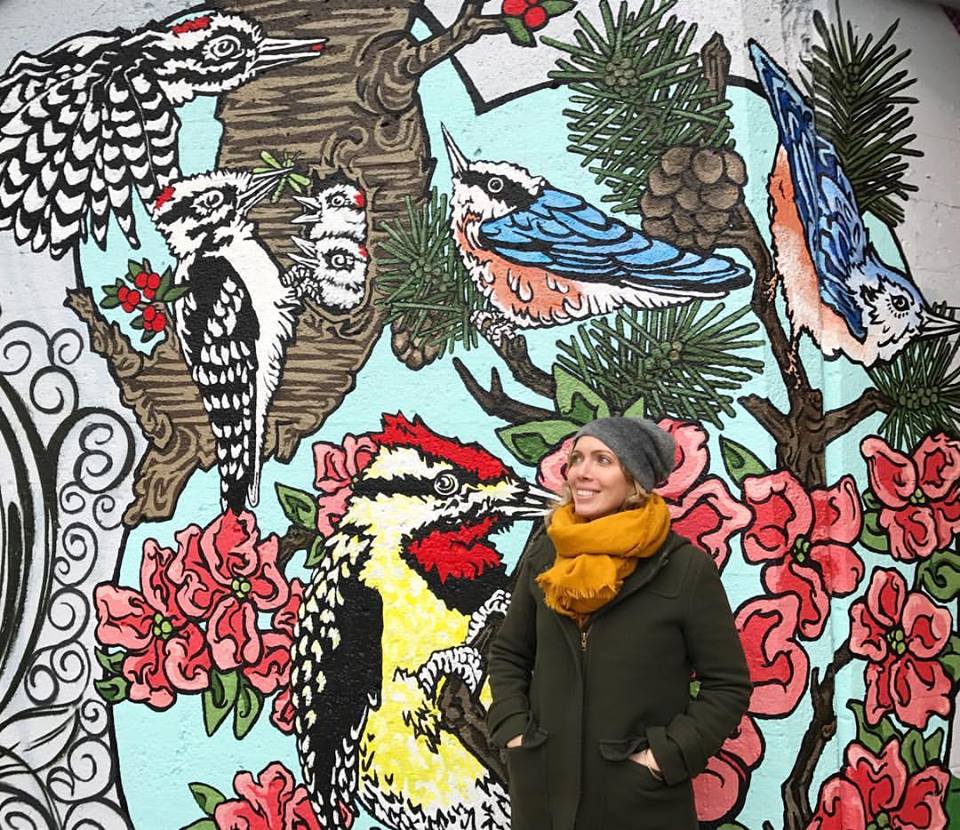 ILLUSTRATION AND DESIGN
Design Department faculty member Cheri Lee Charlton is an artist living and working in the City of Chicago.
Cheri has a MFA in painting from Ohio University, and teaches studio classes at The Illinois Institute of Art in Chicago, Columbia College Chicago, and the Chicago High School for the arts. She has exhibited artwork in New York, Iowa, Ohio, Connecticut, Illinois, West Virginia, and Florida since 2007. She has been designing and executing large-scale public and commercial for both exteriors and interiors murals since 2009 most recently finishing a large indoor mural for Blick Art Materials in Schaumburg, IL this past summer 2017.
She specializes in creating whimsical and colorful images for print, surface design, and wall murals. Explore Cheri Lee's work at cherileecharlton.com
DESIGN Alumni
Columbia College Chicago Design graduates have the interdisciplinary perspective needed to succeed not only as exceptional artists and designers but as great leaders and entrepreneurs as well. Alumni find work in design houses, museums, galleries and educational institutions. Students leave the program qualified for multiple careers and have the ability to pursue graduate study.
Michele McMinn MFA '06
Architect. Bridge-builder. Conservationist.
Michele McMinn focuses on environmentally and culturally conscious designs in her job as an interior architect. READ MORE
Michael Bonomo '99
Designer. Director. Innovator.
Michael Bonomo helps mastermind interior spaces for fast-paced, edgy clients. READ MORE
Chris Bennett '09
Architect. Designer. Scholar.
As a student, Chris Bennett was inspired by legendary architect Jeanne Gang. Now, he works for her studio. READ MORE
Rashid Johnson '00
Fine Artist. Director. Culture Maker.
Acclaimed artist Rashid Johnson turns the focus on black identity. READ MORE