Meet Our College Prep Faculty
INVESTIGATIVE REPORTING AND PODCASTING
Suzanne McBride has worked in the media industry for more than three decades, serving as a top newspaper editor and reporter before joining Columbia's faculty in 2005. Besides teaching journalism courses, Suzanne serves as chair of the Communication Department at Columbia College Chicago and also works as an editor for the Chicago Sun-Times. She's looking forward to exploring the world of social media this summer with high school students participating in the college's Summer at Columbia high school immersion program.
FILMMAKING
DeAnna "De" Cooper Co-Founded Amarok Productions and is President of Elston Films while continuing to consult at Fox Studios in Los Angeles. De is an award-winning Producer with over twenty years of experience in the film industry, including being a senior executive at Twentieth Century Fox Studios and New Line Cinemas. She has produced numerous independent films, new media and television projects, including an Emmy award-winning commercial. As a studio executive, De generated title-specific estimates on films such as Titanic, X-Men, Thin Red Line and Ice Age, handling financial modeling, budgeting, forecasting, contract negotiations and estimate analysis for both in-house productions and acquisitions. De's independently produced projects include : I Heart Shakey in 3D (2012), The Painter (2013), Chasing Gold (2014), Rockit (2015), Happy Snow Day (2016), The Go Cart(2016), Chasing the Blues (2017), Vendors (2017) and Miss Arizona (2018). Her films have played all around the world via Academy Award qualifying film festivals, theaters, VOD, retail and rental markets. De has several high profile projects in development including the Black List Script, Bury The Lead to be directed by Anthony Hemingway. Projects in post production include The Cellar and Lady Parts Justice in The New World Order, which will be De's first produced documentary. De also judges for several film festival as well as being a part time faculty member at Columbia College Chicago.
ENTREPRENEURSHIP FOR CREATIVES
Clayton Smith is a digital marketing professional, writer, and entrepreneur with a great passion for live and performing arts. He has extensive experience in social media marketing and communications, having managed social strategies and platforms for brands like Ticketmaster, NFL, NHL, NBA, and New York Yankees. He is a strong advocate of emerging digital platforms and their potential for positive impacts on non-profit organizations and entrepreneurial ventures. Smith runs a self-publishing services company called Dapper Press. He is a published author and a regular contributor to several digital publications, including the popular Dumb White Husband blog. He has marketing and development experience from Goodman Theatre, Lyric Opera of Chicago, Piven Theatre, and other arts organizations in and around Chicago. He has been teaching at Columbia College Chicago since 2010.
INVESTIGATIVE REPORTING AND PODCASTING
Sam Roe is an investigative reporter at The Chicago Tribune. A Pulitzer Prize winner and three-time Pulitzer finalist, he most recently collaborated with data scientists at Columbia University Medical Center to uncover prescription drug combinations that are linked to a serious heart condition.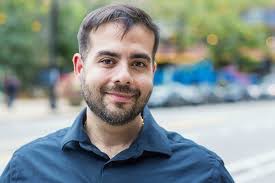 GAME DEVELOPMENT
Alex Damarjian is an author, professional game developer, and educator. He is the principal author of Focal Press's Path to the Game Industry series. As a professional game developer, Alex has worked for companies such as Nickelodeon, Cartoon Network and High Voltage Software. He currently owns his own studio, Damarjian Interactive, which recently signed a publishing deal with both Sony and Nintendo. Alex is a passionate life-long learner with a BA in Animation, MAT in Curriculum and Instruction, MS in Digital Media, and an MFA in Interactive Media.
GAME DEVELOPMENT
William Guschwan is a game designer, field philosopher of videogame design, and entrepreneur. Currently he serves as a lecturer at Columbia College Chicago. His practice is embodied philosophy and the notion of a philosopher as designer. His notable achievements include being a founding member of Apple's QuickTime, designing Quicktime's first sample movie. He also co-wrote the first Apple sponsored video game article. He was also founding member of Apple's Newton handheld device, Sony's Playstation console, and 3DO's game console. As an entrepreneur, he co-founded, designed games, and created the intellectual property for an in-game ad unit for the acquired company, Tap.Me.
INVESTIGATIVE REPORTING & PODCASTING
Matthew Cunningham is an award-winning multimedia producer with more than 15 years Major Market experience at WBBM Newsradio 780 AM and WBEZ 91.5 FM in Chicago. Focused on increasing the quality of content through the use of intriguing stories, he has received 2 Society of Professional Journalist, Peter Lisagor Awards, an Illinois Associated Press Award and a James Beard Award for Podcasting. He has a proven ability for enhancing the depth and breadth of pieces through storytelling, captivating audio and visual elements and superior editing ability. As full-time faculty, he teaches courses in Radio, Podcasting and Digital Journalism at Columbia College Chicago, as well as produces podcasts and exhibition videos at Chicago Museums with his production company Truthful Enthusiasm.